Where is neon training available?
In the United States, nothing like neon's original trade schools. Those schools closed long ago without so much as a whimper from the industry. Their training methods, from which the industry could have developed qualifications, vanished. Some claim you can walk into a neon shop and say, Want to become a neon glassblower? But most come from within the company and 
are trained
 for the company.
Neon schools no longer exist and small sign shops that offer training provide modest credentials on how to wire a neon sign.
Northwest Technical College in Minnesota
Offers a nine-month program, 36 college credit hours, with a diploma upon completion. The course includes computer concepts, career search, block and script letter bending, pattern and sculpture production, bending production, bombing and transformers, indoor and outdoor neon lights, cost analysis and first aid.
University of California at Berkeley
Has a course in neon-illuminated sculpture
. 
Christian Schiess, renowned neon artist and author of The Light Artist Anthology, instructs an
introductory course offers students the chance to complete two neon projects. 
An intermediate course further builds upon these skills, where students make three or four neon art projects
. C

lasses are held on Saturdays for a 15-week period

.
University of California in San Diego, neon guru, Ron Carlson offers beginning and intermediate neon classes and a unique non-instructional neon studio membership.
Lili Lakich Los Angeles Studio
Lili Lakich is a famous artist who has dabbled in several art forms, including neon sculpture and feminist art. her neon art has been around the world, including in Japan, France and America. In Los Angeles, her lessons take place in her Los Angeles Studio. Where you'll learn the history of neon. Methods of getting your ideas into physical form. Learn to make different neon colours using different gases. How to use transformers, hardware and wire safely.
There are several places where you can learn the art of neon bending Brooklyn Glass, which offers One Day Neon and 8 Week Neon Lettering. Brooklyn Glass also offers private lessons that make Brooklyn Glass stand out in the world of neon learning.
Neon Workshops in the US and UK
Do these courses produce productive craft workers for the trade or even successful neon artists
?
If the industry does not assist in the unified training of future craft workers, then we are vulnerable to replacement by organized diligence. If an industry is to grow strong. Members need to educate themselves and qualify for upcoming contracts. Success comes from sharing skills and developing methods of member qualification. Unfortunately, in neon, I learned that its knowledgeable members often shunned sharing information and were reserved in efforts to organise.
They built a trade on professional ideals and then protected its members through organized professionalism
. 
Unfortunately, the neon trade remains fraught with guarded secrets and its newest members often languish in neglect
. Because a trade union organizes and mobilizes its members. For too long, neon members have worked disconnected, fragmented by competition and fear.
Learning how to make neon lights is like learning anything else with one big difference. 
Learning neon glassblowing is the hardest thing you'll ever do
The right way to learn neon glass blowing is through professional training using a certified course outline or an approved body
. 

Work the sea to blend glass tube
1. suck-in then, blow out the tube. Do this until the glass stiffens, then heat and work several times.
2. Twist the joined tubes in opposite directions until blended.
3. Push the ends together, then pull to the matching diameter.
4. Use a combination of these methods.

L-bend
Instead, be comfortable with the terms used in trading. Use a combination of these methods. You can test the sealing by blowing hard on the tube as soon as it hardens. 
Finally, heat the weld one last time until it's almost molten, then place it on the workbench and straighten it
. Make the turns: L-bend
For the L bend, this length is twice the diameter of the pipe. 
So heat twenty millimetres of glass on a ten-millimetre tube, thirty millimetres on a fifteen-millimetre diameter tube, and so on
. Move the tube back and forth through the flames. Do this until the tube glows and contracts.
This divides the workload and makes the molten glass flow. Finally, inflate the tube through a blowhole, then lay the bend flat on the table and flat block one at a time. 
And creating a consistent, usable series of bends is the secret to mastering neon glassblowing
.
U-bend
Because it forms a larger bend than an L bend, the U bend requires more fused tubes. So mark then heat two and a half to three times the pipe diameter. 
Once melted, direct the marks to the ceiling and move your hand upwards until your fingertips are almost touching
.
Form a U then push one tube away and pull the other towards you. Blow out the bend to the correct diameter and lay it down on one side, one tube lying flat on the table and the other on a block.
Drop or Lift
The combination of Drop and Raise is often used to form jumps between letters. Once melted, release the tube with one hand one block high so that both tubes are parallel to the floor. Place the tubes in the desired direction and then blow. Forming a lift or drop involves a light roll of a tube.
Troubleshooting Basic Bends: How To Fix neon tube bending mistakes
It's easy to get it wrong with neon bending, and the fix is only shown in some books and videos.
Patterns and Inversions
Putting the basics together to form letters is the next step.
All neon signs are inverted before bending. Draw a block letter A on the paper and insert it. As a tube, all lines represent all strokes.
Whichever method you use, make it a habit to turn the paper over if your design requires it.
Line Block Letters.
It's time to put your basic skills to the test and create Block Letters in Glass. I recommend you practice these straight block letters first -A, E, H, K, M, X- then move on to the curved letters. This way, you continue to develop basic bending skills and their variations. Usually, it's wise to write the inside of a letter first.
Then double back, bend the U on the side, over the head and finally drop back to the table.
Variations.
The basic bend makes the centre mark bend closer to the beginning of the letter than to the inside corner, as with the L bend
. If you already understand this, practice bending the connection at the end of the letter. These bends connect one letter to another and are offsets and variations of raises. 
Once you've completed some of the Block letters, practice soldering them together using crossfire or cannon.

Many letters must use slight variations of basic bends, like the V bend. The next Double back under Leaning Raise forms a bend that resembles the Double back-Drop combination, and that's exactly what it looks like. Curved block letters Once you're close to mastering Straight Block letters, move on to Curved Block letters. Consider practising the letters -B, G, O, R, and S- as most other letters can be formed from these letters. Practice these letters to hone your basic skills and prepare you to learn the letters. Script letters are made of curves formed in the ribbon recorder. I hope that curving a lot of curved block letters will benefit from this trial. This is, again, worth mentioning. If there is a letter inside, bend it first. Consider the bending sequence for the letter E in the Script in Figure 3.
Problems with size The size of a letter can affect how you bend it. Lifting the flat tube up one block eliminates bend #2, allowing bend #1 to fall onto the tabletop. 
How about making large circles, border tubes, 
multiple
 outline units and bubbles? Because the Big O
The curve is so light on a circle three feet in diameter or larger than the tube that cannot
be heated
 in the molten state
. Boiling tubes sag more because of gravity. 
Because the tube is only heated, tension often develops within the glass structure and leads to breakage
. Before it comes out of the flame, turn the tube upside down. This way, you have a second or two to pop the tube into the mould before it sags too much.
You can pull the tube to remove excess sagging as well. In the model, keep the straight pipe tangent to the curve. No straight pipe runs along the curve, it stays outside of it. Another solution is to flame anneal the tube.
Many craft workers return the tube to the flame after forming the curve and after the glass has dried for a moment
. Do not make very large circles from a single tube. Take them apart to make handling, bending, and transportation easier.
Making the Cut
In making neon, one of the most critical procedures is the cutting and splicing of the glass tubing.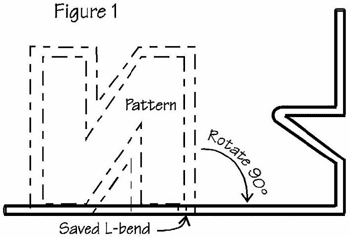 Neon Border Tubes
Tubing must be straight, and tube ends must 
be shaped
 to make them. They usually connect boundary tube electrodes
 in a head-to-head or side-to-side alignment, which requires high accuracy during forming
. Practice making edge pipe ends using two to three inches of sealed scrap clear tubing. To help keep the pipe aligned, align it on a straight line drawn on the bending table.
Some prefer to look at the pipe with a straight eye, while other craft workers create a jig to keep it in line while welding with a flashlight
.
Double Outline
Twisting double-outlined letters or designs presents unique challenges. To fold a complex part, look for a basic bend, L-bend, U-bend, or Offset that you can label as unusual. 
Folding a pair of outline pieces together using a saved foundation twist is a powerful tool that will save you both time and frustration
. 
It will be more productive and avoid frustration, as you will produce a more attractive product
.
Demonstrates how recording an L-bend and turning the pipe ninety degrees derails previous work and allows work to continue unhindered
. But you increase your chances of success by choosing to record the simplest bends.
Glass Bubbles
You won't find much use for glass bubbles in traditional neon signs, but you will find them in neon artwork. 
Note that large glass bubbles burn much more than the rest of the tube because light diffuses over the surface, reducing the light intensity
. See Figure 2 for tips on blowing various neon bubbles and blowing for fun. 
The next step in this series is tube processing that illuminates your glass masterpiece
.
When manufactured and installed, a neon tube can light for decades and it is far more efficient than an incandescent bulb
.
Mercury, or quicksilver as it
is called,
 is that shiny, silver-white, odourless liquid we neon craft workers roll into argon filled tubes to brighten them
.
To describe the science of tube processing would rely on physics and chemistry.
Channel Letters
Channel letter tubes are bent in much the same way as double outline letters, except made from larger diameter tubes. Large diameter pipes offer less electrical resistance than small diameter pipes. A pipe running much over ten to fifteen linear feet is difficult to manufacture and cumbersome to use.
Lighting Up with LEDs Channel letters fill a need for corporate identity on the sides of the building and have done so for decades. Times are changing and more than filling a need, LED channel letters are now providing their lighting source.
Conclusion
Neon training is available at many places but is most commonly found at trade schools, community colleges, and online. There are many ways to learn how to make neon lights, but the most important thing is to find a method that works best for you. There are many benefits to learning how to make neon lights, including the fact that they can last for decades and are more efficient than incandescent bulbs.
What are some things you'd like to learn about neon lights? If we missed something, let's us know and to learn more about LED neon check out our FAQs